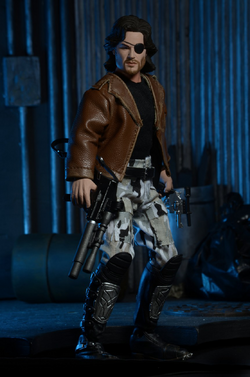 NECA released a 8-inch "Retro Clothed" style Snake Plissken figure in January of 2015. The style was supposed to represent a "throwback" to vintage toy designs of yesteryear, in a similar vein to the Funko ReAction figure.
Accessories
Edit
Official description
Edit
Action figure and action movie fans will both rejoice at our latest offering: a brand new Snake Plissken doll based on the 1981 film Escape from New York, and featuring the likeness of actor Kurt Russell! This pose able 8" figure is dressed in fabric clothing similar to the toy lines that helped define the licensed action figure market in the 1970s. Snake wears his iconic camo pants, muscle tee and assault boots and comes with a removable jacket, holster belt, and enough weaponry to take down a small army.
Background Information and Notes
Edit
NECA's website categorizes this figure in the Plush and Dolls section.
The doll only comes with 1 throwing star, rather than 3, for reasons unknown.
The adverting art shows Snake with the spiked baseball bat, but that object is omitted from the accessories for reasons unknown.
External links
Edit